Easy and fast: Getting a visa for Vietnam with VIETNAM VISA ONLINE
Vietnam offers the full diversity of Indochina, which captivates millions of visitors each year. The country also offers an untamed beauty and innumerable cultural highlights away from the capital Hanoi. Vietnam is known for its beaches, rivers, Buddhist pagodas and sometimes hectic cities. Besides the beautiful landscape and the warm climate, Vietnam offers a long and interesting history as well as many cultural insights. Many tourists who are very interested in the religion of Buddhism are drawn to the country of temples and pagodas to learn more about this unique religion whereas they want to get a visa for Vietnam. How about a trip to Ha Long Bay, which is the hub of more than 2,000 islands? Here you will get to know Southeast Asia in its own, authentic way. Need a Vietnam visa for your next trip? Get your Vietnam Visa here – We offer an all-inclusive-service for maximum comfort!
The highlight: Our offer is designed specifically for Vietnam travelers. Here you can find all relevant information as well as services for the available visa types. Since visa requirements for our Vietnam Visa vary from country to country, we offer a structured overview of a variety of countries. This makes it easy for every vacationer to apply for a reliable Vietnam visa with us. Vietnam welcomes a large number of tourists, who also come from different cultures. An exchange of cultures and views enriches your stay in Vietnam even more.
As an authorized online visa portal, we allow you to submit your Vietnam Visa application conveniently from home. Need more services upon arrival in Vietnam? No problem, take a look at our special airport services.
Apply for Vietnam Visa online – Just a few clicks ahead!
Many tourists complain about a long application and processing process regarding getting a visa for Vietnam, which in some cases makes the anticipation of the upcoming vacation even more stressful. We want you to be able to focus on your travel arrangements. Everything else we do for you, promised! With our authorized Vietnam visa online portal, you`'ll be able to conveniently apply from home for the Vietnam visa you need. We have designed our system to automatically detect errors or inconsistencies in the application. This can accelerate the application process in case of doubt. Would you like to know how you can specifically apply for your Vietnam visa? Here is a schematic representation in short form:
1. Apply online for Vietnam Visa
The Government of Vietnam requires certain regulations that must be met by foreigners in the course of entry and to get a visa for Vietnam. To make your entry easier and faster, we recommend you to take care of all formalities in advance. At its core is the required document for foreigners traveling to Vietnam by plane. By obtaining a permit in advance for your Vietnam visa, you enjoy a simplified entry through the Online Immigration System.
2. Receive Vietnam Visa approval letter by e-mail
You will receive the necessary Vietnam visa approval letter by e-mail. With this document you can go directly to the entry desk right after landing. This prevents long waiting times at the airport after your long-distance flight. You can start your vacation directly and uncomplicated and do not have to let complex formalities regarding the Vietnam visa ruin your mood.
However, always pay attention to how long your Vietnam visa is valid. Because when it expires, you are no longer eligible for a stay in our beautiful Vietnam. Therefore we issue different types of Vietnam visas, which vary depending on the length of your stay. You should also pay attention to the costs involved – the longer you want to stay, the more expensive it will be. However, a long stay is highly recommended, as it allows you to experience the full glory of our country and allows you to travel to more rural areas. The great variety of our country never makes your stay boring and you will never regret a long vacation in Vietnam.
You will find the applicable prices to get a visa for Vietnam in our price list down below. As you can see, getting a visa for Vietnam is very easy with our help. Our system is intuitively designed, you will find your way around right away! Further information on the available Vietnam Visa types and the special regulations can be found here.
Need Express Services? Check out our special fares for your Vietnam Visa or contact our reliable staff for more detailed answers or complex problems!
Whether it is individual travelers or group travel, our service adapts to your needs at any time. Only a few steps need to be taken in order to get the right Vietnam visa with our help. You can fully rely on our experienced and reliable staff regarding this process, because we want to make your vacation as beautiful and uncomplicated as possible. We guarantee you a safe, tested and officially approved system. The following three steps are needed to get the coveted Vietnam visa. Read carefully to not miss any important steps in the application process to get a visa for Vietnam: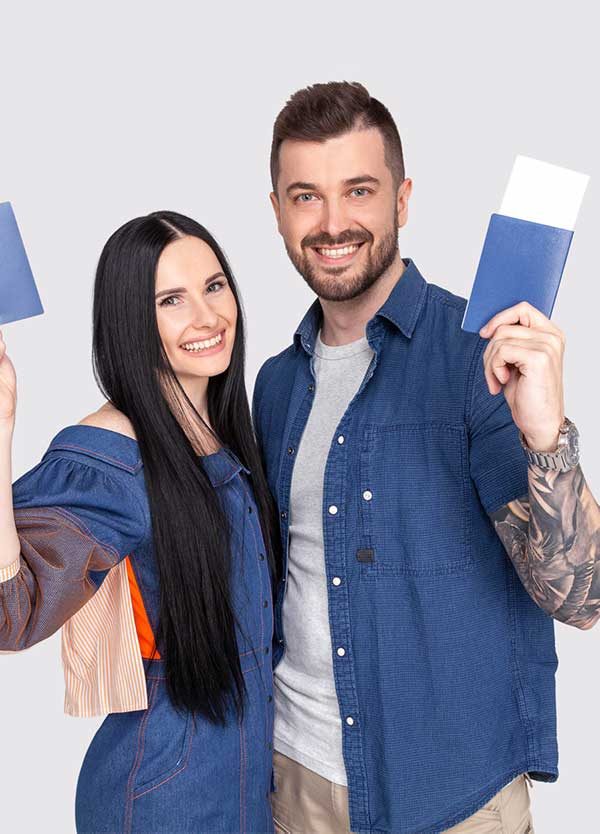 Fill out the online registration form and pay the service fee. Use either your credit card or PayPal.
Receive the Vietnam Visa by e-mail. Upon arrival, you will need to complete the entry and exit forms and present your original passport (validity: at least six months after the date of entry). So Pay attention to the expiration date of your passport, because if it is not valid for more than half a year, we are not allowed to let you into the country.
We hope to give you a good overview of the Vietnam visa restrictions. Otherwise you can also contact our friendly staff, who will be happy to assist you. Further and more detailed information can be found in the other tabs of our homepage.
EXTRA SERVICES
Book our extra services now so that you reach your destination faster. With out fast Vietnam visa options we make your journey as comfortable as possible.
LEARN MORE ABOUT THE PORTAL
TESTIMONIALS
Don't take our word for it – here's what our clients say
I've always used this service for more than 1 year now and I just got my business visa yesterday and I would like to thank the whole Vietnam-visa team especially to Ms Annie for always being there for me when I need help even if I'm not an easy person to deal with. I highly recommend this service for everyone for a Vietnam visa with no hassle.
Tom P.
Katherine has been an absolutely fantastic help to me! Organizing a last minute Vietnam visa on arrival for me and answering every single question under the sun that I had. I have always used the consulate to get the visa before departure but would definitely reconsider this now. The process is just so easy, the staff are professional…
Henry M.
I have used Vietnam Visa for my Visa requirements my last three trips. They can make any arrangements for you. All of the people at Vietnam Visa have been very professional, polite and always receive the best and very quick service and advice. I highly recommend their service especially for those coming to Vietnam for their first trip.
Tatjana S.